Nature's lesson on nurturing!
Nature has an incredible way to make us aware of the world around us and within us in the most simple, gentle and yet impactful way.
At the beginning of summer I decided to get a nice big and colourful plant for my balcony. Since this was my first summer at my new home I was not sure what type of plant would be suitable based on the available sunlight.
The plant I chose was big, colourful and it stayed that way for over a month. However soon after that, I noticed the leaves started to change colour and the stems were turning brown, which meant they were dying. I gave it water, and was hoping for a miracle that would bring my plant back to life. I kept on looking at it, and hoping and looking and hoping with no change to the plant in sight. After 3 weeks or so, I started to feel really bad when starring at my NOW appearing dead plant.
I felt horrible as this once beautiful plant was now dead and internally I knew that I had a LOT to do with that. Yes, I contributed to the death of my plant. I felt terrible and of course guilty.
So, I set on this more and I looked and hopped for magic to happen. To my surprise, on this one beautiful sunny day a miracle did happen. During one of my plant starring sessions, I noticed that one of the branches was still green, which meant it showed a sign of life. Seeing that, I jumped off my 'contemplation chair' and went to examine the true condition of my plant.
To my untrained gardener's eye I was pleasantly surprise to see that one branch was alive. Ignited with hope I started to untangle and prune the dead stems. Once I pruned all the dead stems and only left the green ones suddenly the plant got its life back.
From that day forward I've been not only watering my plant, but also pruning it and having full fledge encouragement -' You Can do it'- conversations with my revived plant. It's purpose was to rebuild my muscle for caring and not to feel like a crazy lady for talking to my plant. 🙂 Two weeks went by and all of a sudden I noticed new buds and flowers started to bloom. I was ecstatic!! My balcony started to look better, more colourful and secondly my plant was alive and blooming again. AKA- I didn't kill it completely.
This simple message in reading yet powerful in metaphors may at times seem challenging in application to our lives and relationships, however there are key lessons from the plant, such as:
Power of being nurturing! When you stop watering and paying attention to the plant- it dies and so do the relationships in our lives when neglected. The outcome of neglect makes relationships fade away and people leave, despite the initial beauty they once had.
Clean up! Once the dead branches were pruned, the vibrant and alive branches became clearly visible. The same happens in our relationships. Once we clean up, let go of things, people and relationships that no longer serve our higher good, we make space and time for the healthy relationships to enter. The minute the stale relationships are gone, the positive ones become vibrant and noticeable. Most of all, by eliminating unhealthy relationships, we make time for nurturing and cherishing healthy ones so that they can bloom and flourish with ease.
Pay attention! By paying attention to my plant I watered it regularly and in return it gave me more beautiful flowers to look at. A simple act of paying attention to the water levels of my plant gave me 3 folds back in return, namely:

The balcony looked beautiful and inviting
The plant continued to blossom
Personal satisfaction from seeing the fruit of my labour flourish
To no surprise, the same happens in our relationships. By paying a little bit more attention to the conditions in our relationships we are able to provide nourishment, love and care. In return, we get back nourishment, love and care! Simply, we make each other look and feel good. Impressive, isn't it!
So friends, Mother Nature once again in its simple and gentle way made me realize how fragile our relationships are when we neglect them. Furthermore, how much joy and happiness healthy relationships bring us when reciprocated.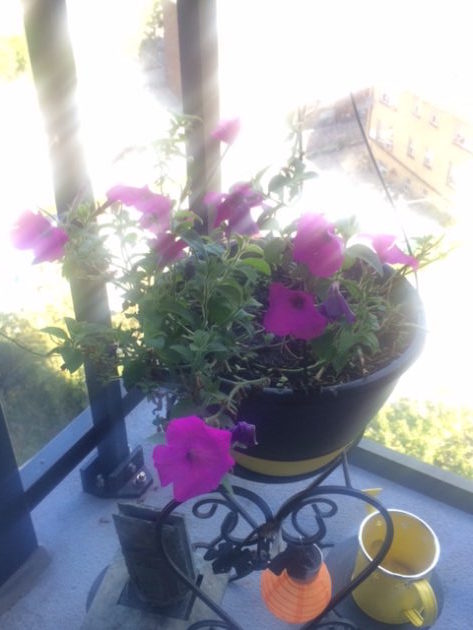 Pay attention, Nurture connections and Love the moment!
Balance & Joy
R